Be part of a change you want to see in the world
About Shri Deepchand Jain
The Iron man of Nageshwar Tirth – Shri Deepchand Jain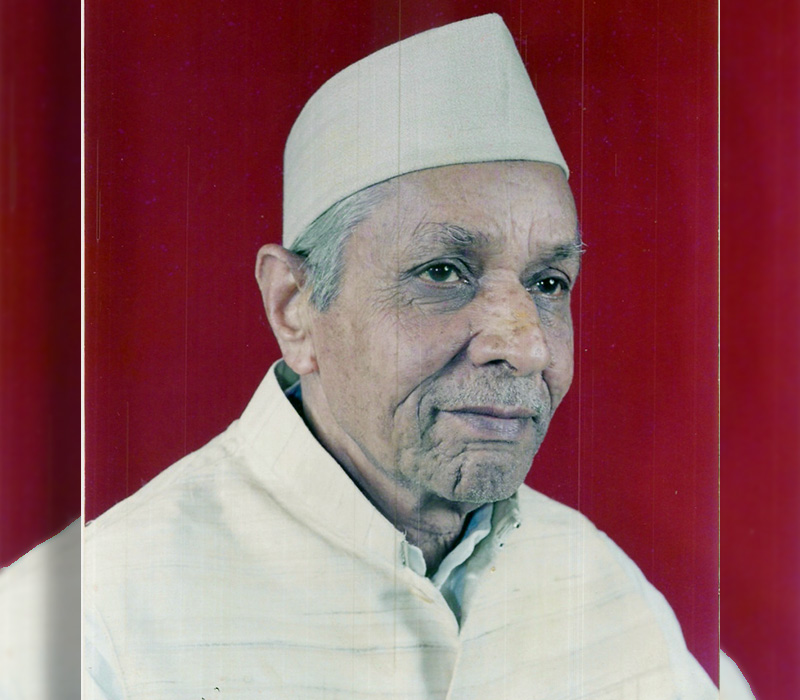 In present times no one is unacquainted with the name of
Nageshwar Parshwanath
. In the midst of loveliest natural surrounding this "Mahatirth" (Pilgrimage) seems "Devlok" (Divine and holy place) of temples. The extremely charming Idol of Mahaprabhu, the great
Shri Nageshwar Parshwanath
provides every pilgrim with a great ecstasy and spirituality.
On one hand, the stream of spirituality provides transdental and tranquil feeling to the heart as well as to the mind. On the other hand, standard modern facilities of clean accommodation & delicious meal of mess (bhojanshala) make them feel at home.
The place seems very pleasing and beautiful but the story of its development is even more interesting and surprising. Seeing the present form of the tirth, it will be more exciting for us if we put a glance at the other aspect of this extremely divine and holy place.
It will be more relevant and contextual to consider the initial streak of its development. Let's turn the pages of the history of this divine place.
Cloaked with mango groves, in the milieu of chirping and twittering of birds, a lean and thin young person sitting on a large rock was beholding extra-terrestrial vermillion coated Idol in the dilapidated remains of the dome-shaped shrine. Only one thought what was resounding and echoing in his mind and heart, "Oh Lord! When will you be free from this ramshackled condition and when this holy place will get its splendour and Grandeur form?" Every day the string of this Echo was flooding in his heart and mind. The spontaneous overflow of powerful feelings was prevading in his mind to develop the place. But the young man was not getting any clear solution to this. This young man was none another but the "dreamer" of Shri Nageshwar Parshwanath Mahatirth, Shri Deepchand Jain.
When the thoughts of development of this holy place were echoing in his mind, suddenly it happened, a wonder, it was informed that highly venerated Upadhyay Shri Dharmsagarji Maharaj Saheb and much respected Pujya Panyas Pravar Shri Abhaysagarji Maharaj Saheb were adventuring, on hearing this Shri Jain was delighted. Both the high Majesties with their might prepared a plan to renovate this temple. After facing a lot of struggle and so many explorations they performed the ceremony of consecration of the statue (idol) of Lord Parshwanath. By continuously praying and worshipping for 21 days they performed the first "Vaskshep". And the responsibility of renovation was entrusted to Shri Deepchand Jain. The work of development was very difficult and complicated but it was not impossible for Shri Deepchand Jain.
When the construction of the temple began, the geographical view of this place was undeveloped and decadent. In the ambience of the terrifying forest, so many small and big hills, numerous palmyras and the terror of wild animals on every step… the circumstances and conditions were showing that nothing can be developed here as of now. But Shri Deepchand Jain, a person of extraordinary brilliance with his talent and versatility accepted the serious challenge and stepped forward to develop this place into a grand pilgrimage.
The path was very inaccessible and harsh. The hurdles and challenges to drive the chariot of development on this thorny and stony path were facing bitterly towards Shree Jain. At that time in the name of temple, there was only a dome-like structure on Lord Parshwanath's head looking like an ordinary umbrella on a person's head. Statue of Lord Parshwanath was installed only in the area of 400 square feet. In such conditions to talk of development was like a shot of arrow in the dark.
But by the divine grace of deity present at the holy place and miracles of gods and also the long lasting blessings of Guru Dev and the semblance to Shri Deepchand Jain, it began to appear like that this tirth will take the form of a mahatirth and will host its pennant of fame in the world. The firm resolution, iron persistent, strong will power, fearlessness, long vision and reconciliation developed him as a fighter to accept every challenge and by overcoming every difficulty the development of tirth was made possible which nobody had thought about even in their dreams.
At that time there wasn't a single penny in the deposit. In spite of climbing multi-storey buildings in cities like Madras and Bombay, he could collect a meagre donation of 100 rupees. He had to stay there for a week or more to collect five to seven thousand rupees. At the beginning of the construction of the temple, Shri Jain had to struggle a lot to get financial support. In the series of this struggle Shri Basantilalji Dangi, the social and charity worker had given his utmost and active support.
With the infinite grace of Lord Parshwanath and the divine influence of this holy land that since then so many pilgrims are visiting this holy place on a regular basis. Now the tiresome journey of disembarking from a local train to a nearby station and wayfaring and crossing the rough path of the river is now changed into the journey of Express trains and newly made highways. No one ever thought that only in a short time period of 50 years the tirth has secured its unique place in the world map a from rural background. At that time people would search for the Nageshwar Tirth by telling its name but now they can search for it on the Google Maps and its own website.
Along with the divine place of enormous temples, rich featured accommodation, residential houses, mess and their essential & proper management were the result of Shri Deepchand Jain's hard work and devotion towards the 'Mahatirth'. Although many times he has been honoured by so many awards and rewards by the various reputed social organisations but all these rewards began to seem very small and tiny day by day in comparison to his grand persona.
Not only the development of Jain temples and tirths but he also contributed and supported the development and growth of the very area. He has played an important role in opening various schools, hospitals, bridges, roads and construction of inns (Dharamshalas) has provided opportunities of employment. Not to forget the construction of Jain Dharamshalas at Alote and Chaumahla, Police station at Unhel, Commerce College at Alote and stoppage of numerous Express and fast trains. He worked for rural development and contributed to water facilities, road and electricity in a rural area. He has set a unique example of social and charity work, by working tirelessly which brought a revolutionary change in the lifestyle of the local rural people.
Free medicines to helpless people and deprived section, scholarships to brilliant students, financial help to talented students for their higher education, encouragements and rewards, arrangements of medical camps i.e. eye camp, camps for handicapped, psychological camps, financial support for deadly diseases and recommendations of poor patients to the big hospital are the part and parcel of Shri Jain's life.
Along with the unimaginable development and construction of world famous Shri Nageshwar Parshwanath Tirth, he has also played important role in the construction of more than hundred Jain and Non-Jain temples, public places, renovation of historical monuments and construction of large inns.
For his marked and noteworthy role in social work, Rajasthan government conferred him with the highly prestigious "Bhamashah Puraskar". Akhil Bhartiya Jain Shwetambar Shree Sangh has honoured him with a Festschrift "Deep Jyoti". In the religious field, hundreds of Institutions and organisation provided him admiration letters and citation sheets. For his invaluable service to "Jin Sashan" entire Jain samaj has honoured him with the award of "Jain Ratna".
It is a well-known proverb that there is a woman behind every successful person. His religious natured wife Shrimati Sitabai Jain has been his successful guide and his source of inspiration. She has supported him in every walk of life. Tapasviratna Shrimati Jain was the partner of his smiles and tears. She has always supported & encouraged him for his social service and practice of charity. The great support by his wife has been the power of his journey of charity. Her support is really appreciable.
For devotees visiting Shri Jain Shwetamber Nageshwar Parshwanath Tirth Pedhi, Management have made arrangements for comfortable accommodation inside the tirth at very nominal rates.
Only takes a few seconds!